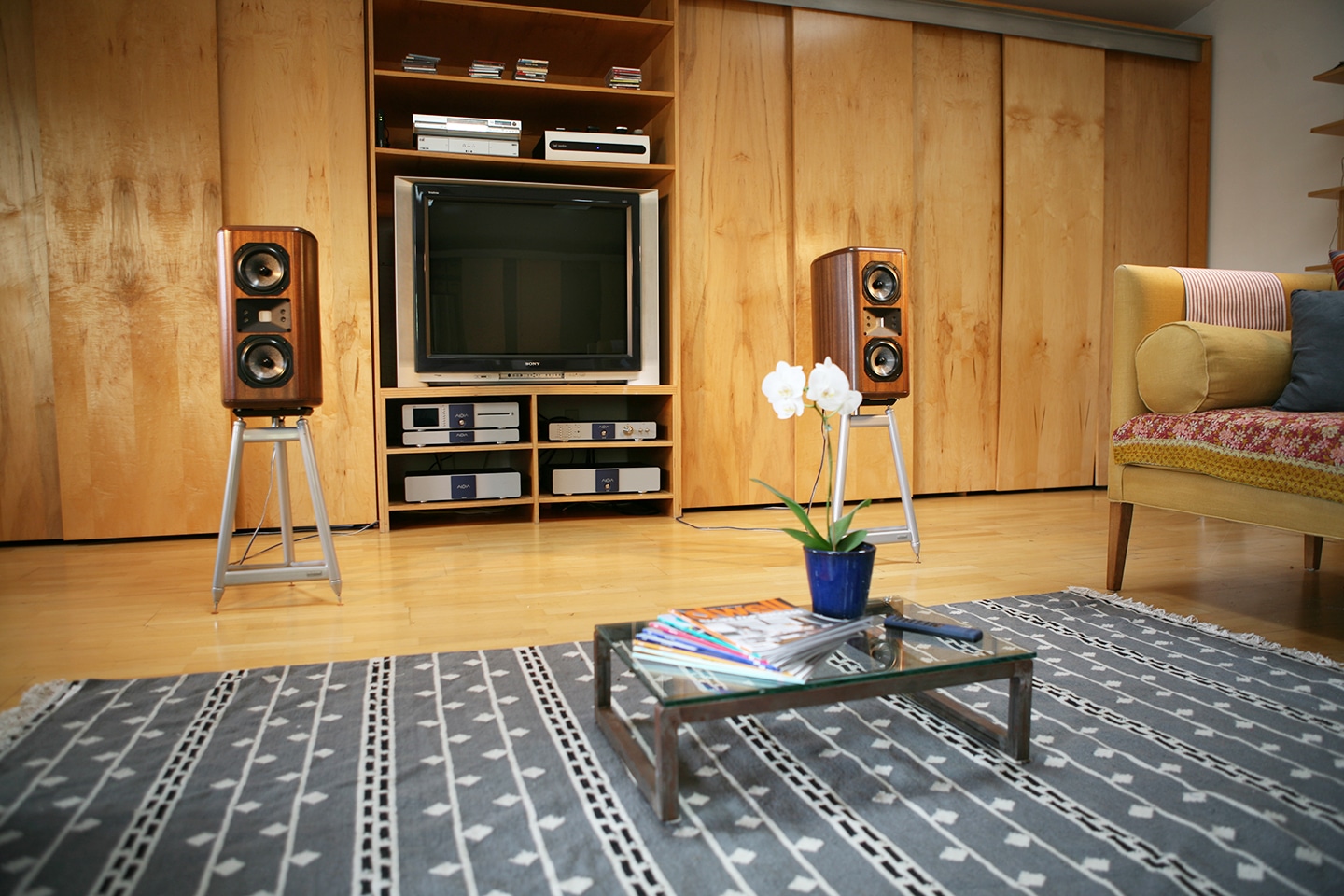 Bard
Recipient of the 2012 CES Innovations Award in High Performance Audio, The Raven Bard is a compact stand mount speaker with performance beyond expectations for it's small size. The curved cabinet profile bends light so that it looks much smaller and blends more easily into room décor. The teardrop shape is aesthetically interesting as well as critical to the acoustic performance.
No compromises are made when selecting which components to use in our products. When we could not find a tweeter with low enough distortion we designed our own: the Raven Pure Ribbon Driver. A pure aluminum ribbon fuctions as it's emitting diaphragm. The ribbon's measured distortion is comparable to distortion measurements seen in high quality power amplifiers and pre amplifiers! It produces an extraordinarily natural sound.
Our woofers use a 3-layer composite sandwich cone with curvilinear geometry for exceptional strength to weight ratio and critical inner damping. This minimizes distortion and increases detail. The back of the cabinet features a high efficiency venturi vent with area equivalent to a 6 inch tube. A venturi vent has low air speed to minimize noise and maximize efficiency for solid, tight, clean and tactile bass. The venturi walls are designed with a continuous curve to eliminate resonant anomalies, as opposed to a normal tube port or slot port that color the sound and muddy the bass.
The cabinet is precision CNC cut Baltic Birch plywood. Fourteen layers are laminated with an elastomeric damping adhesive. It is both extremely rigid and well damped. This laminated assembly has a much better balance of properties than aluminum, phenolic resin or stone. The core of the cabinet contains 36 internal braces arranged to create a random labyrinth. All internal surfaces are shaped to cause diffraction and diffusion in unison. This design converts internal back wave and vibration mechanical energy into low level, randomized, inaudible white noise.
In short, when you hear the Bard, all you hear is music.
---
---
Available Finishes
Available finishes for the Bard include:
Maple, Walnut, Cherry, Strata, Black, or Custom Finish.
---
---
SENSITIVITY

86 dB at 1 meter with 2.83 volts

NOMINAL IMPEDANCE

6 ohms

MINIMUM IMPEDANCE

4.5 ohms

FREQUENCY RESPONSE

+/-3 dB 50Hz to 50kHz

MIN AMPLIFIER POWER

20 watts = 99 dB peak at 1 meter

MAX AMPLIFIER POWER

200 watts = 109 dB peak at 1 meter
CROSSOVER

Polypropylene capacitors and air core inductor

CABINET

CNC cut Baltic Birch Plywood with venturi vent and 27 internal braces. Assembled with high damping elastomeric adhesive.

WIRING

Oxygen free copper

TERMINALS

Bi Wire Terminals; Cardas Pure Copper
HEIGHT

18.75 inches

WIDTH

10.25 inches

DEPTH

17.25 inches

WEIGHT

35 lbs.
TWEETER

Raven Point Source (Pure Aluminum Ribbon)

WOOFER

Two 5.25 inch sandwich cone with phase plug
---