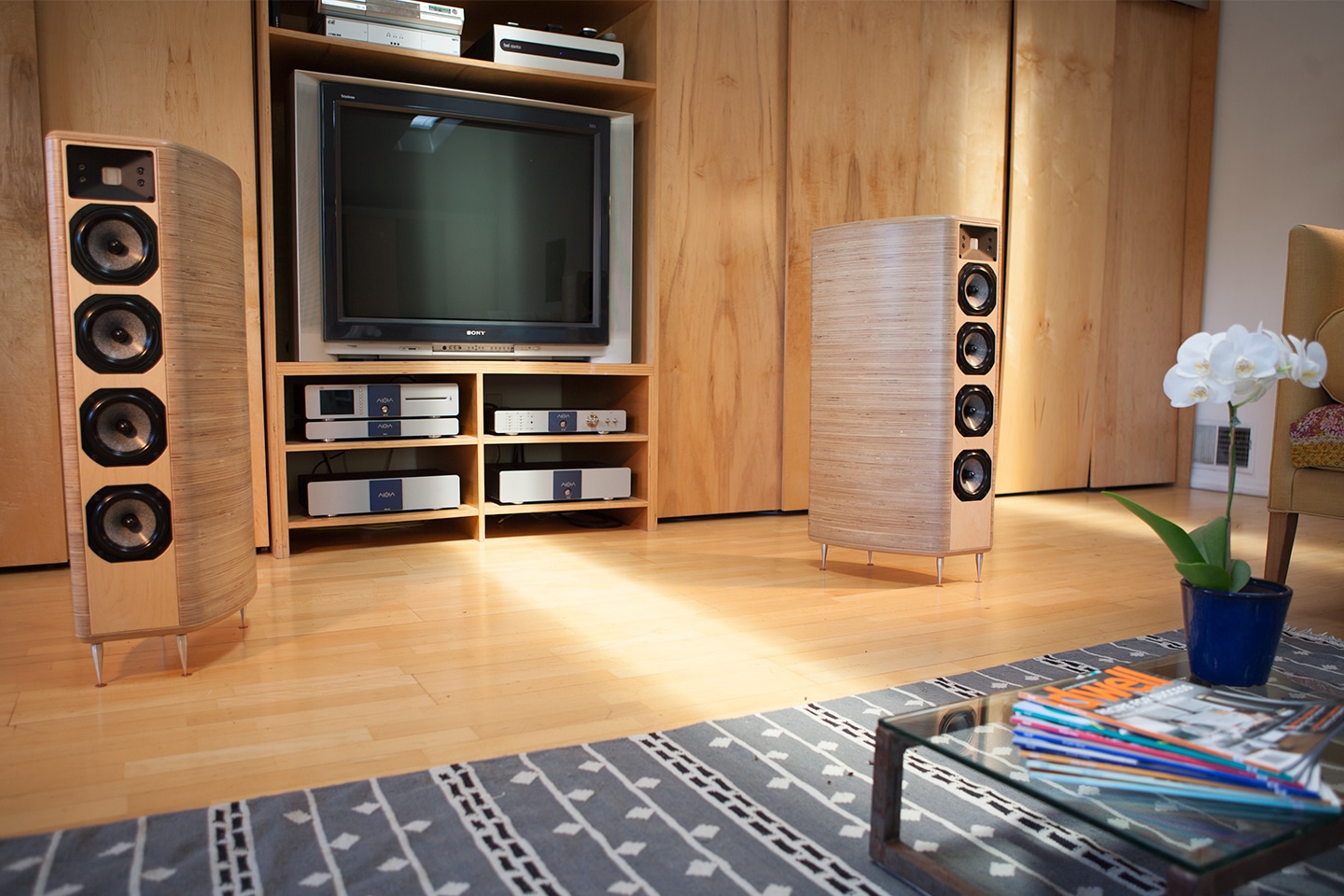 Ebb
In a recording, the sound characteristics of voice, instrument and room acoustics are captured all at once. When you play the same recording back at home, your room acoustics colors the sound with reflections, time delays and frequency anomalies of its own.  It has been said that the largest distortion in your audio system is your room acoustics and this may not be far from the truth.
Many speakers try to control the directional characteristics of the speaker. The challenge is, how to control directional characteristics at all frequencies equally…
Since voice is recorded using a cardioid directional microphone to reduce pick up of room acoustic feedback, doesn't it make sense to design a speaker cabinet that would do the same thing? That's what we thought too. The Ebb is  designed as a cardioid speaker, essentially matching in it's room response, the typical cardioid microphone.
The Ebb works by canceling out the sound at the back of the cabinet eliminating any front wall reflection. This is achieved by having a pair of midbass drivers at the back of the cabinet, similar to the midbass drivers working from the front of the cabinet. These drivers play exactly what the front drivers play except they are playing out of phase and with modulated amplitude (using a two position switch to adapt to most rooms and situations). Also, by design and construction, the Ebb's cabinet greatly reduces both sidewall and front wall reflections. This effectively removes any distortion caused by your room's acoustics and allows you to experience the original recording in it's purest form.
Timbre, Pitch, Loudness, Depth, Width and Height are so vastly improved that a true soundstage is realized right in your own listening room.  This enables you to clearly hear each row of a choir and each row of a band or orchestra. The natural decay of instruments becomes more apparent as does the recorded space and hall ambience in many live recordings.
Experience the Ebb, a revelation in the purity of sound reproduction.
---
Available Finishes
Available finishes for the Ebb include:
Maple, Walnut, Cherry, Strata, Black, or Custom Finish.
---
---
SENSITIVITY

86 dB 2.83 volt 1 meter

NOMINAL IMPEDANCE

6 ohms

MINIMUM IMPEDANCE

5 ohms

FREQUENCY RESPONSE

+/-3 dB 40Hz to 50kHz

MIN AMPLIFIER POWER

20 watts = 99 dB peak at 1 meter

MAX AMPLIFIER POWER

250 watts = 110 dB peak at 1 meter
RIBBON CROSSOVER

Polypropylene capacitor and air core inductor

CABINET

CNC cut Baltic Birch Plywood with venturi vent and 51 internal braces. Assembled with high dampening elastomeric adhesive.

WIRING

Oxygen free copper

TERMINALS

Bi Wire Terminals; Cardas Pure Copper
HEIGHT

35.3 inches (+3 inches with aluminum stilettos)

WIDTH

11 inches

DEPTH

16.25 inches

WEIGHT

86 lbs.
TWEETER

Raven Point Source (Pure Aluminum Ribbon)

WOOFER

Four 5.25 inch sandwich cone with phase plug

REAR CARDIOID CORRECTION

Two 5.25 inch sandwich cone with phase plug
---